Why Such An Increase 2021 Industrial Property Taxes?
BC Assessment determine the value of each property at July 1, 2020 using the income approach of valuation applying market rent rather than actual rent. Hence, your assessed value could be higher than market or appraised value.
In April or thereabouts, each municipality allocates a tax rate for each type of property. Industrial property can fall under 05 or 06 class, each one having a different tax rate.
05 is primarily industrial uses only, whereas 06 includes other uses as well, such as retail, office, and hotels.
In 2020 the BC government provided a subsidy to 05 & 06 properties by reducing the tax rate for school tax.
Increases over 2020 will occur for several reasons.
1. Low assessment in 2020
If your property was under-assessed in 2020, BCA could be doing a catch-up. Hence, if you were 10% under-assessed, your taxes will go up 10% in relation to other properties. This change will be reflected in the percentage change calculations shown below.
2. Municipal Budget
Any budget increases by council will increase all taxes. In Richmond, that was 7% for class 06.
3. Other Government
The tax rate includes amounts for BC Assessment, Metro Vancouver, Municipal Finance, Sewer and TransLink. This increase appears to differ by municipality. Richmond was an increase of 4%, while Vancouver was 1.7%.
4. BC Government Subsidy through School Tax
This reduced taxes for 2020. Hence, in Richmond, with school tax rate for 2021 going up, the amount of taxes on 06 properties for school tax will be up 249% from 2020. The 2021 rate was marginally higher than 2019. The reduction in 2020 overall reduced taxes by 29%. Part of this years increase is a return to the school taxes charged in 2019.
5. Increase in the value of the property
When a property increases in value by 20%, the taxes will go up by that amount.
The tax calculations below represent an industrial building in Richmond having a building area of 55,590sf. The assessments and taxes were as follows: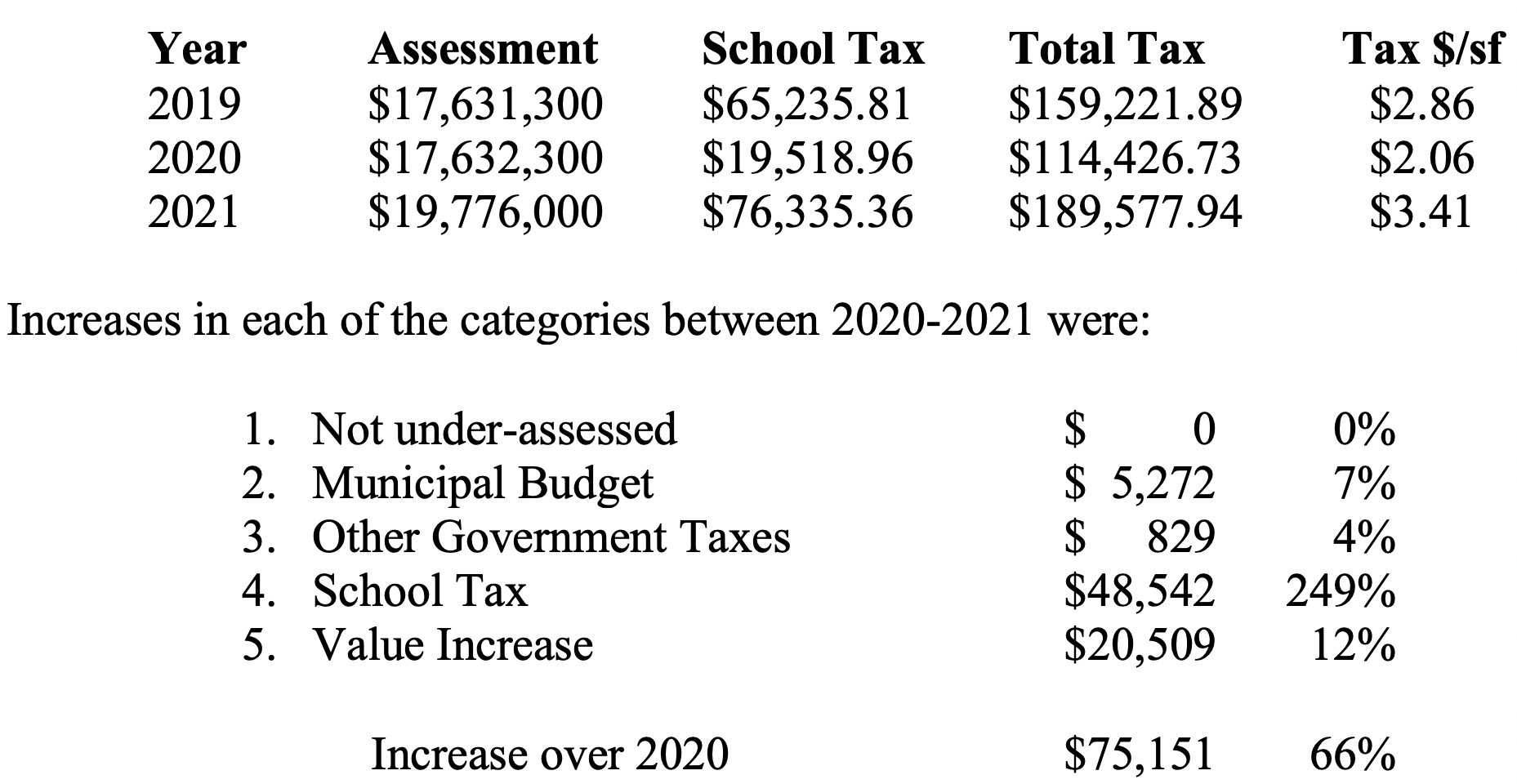 This is an increase per square foot of $1.35. With rents rising $5/sf, this may be a "hit" most tenants did not anticipate.
If you have any questions, please contact Peter Austin at
paustin@telus.net
, or call 604.733.3217.